• garlic • gourmet • organic • produce • vegetable • vegetables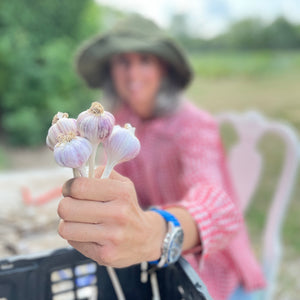 Organic Gourmet Garlic!  200lbs of organic cloves were planted this past fall, and they have turned into 4k heads of beautiful garlic!  They are all dug, dried, cleaned and ready for you!    We also just planted 2k more for 2022! In June the garlic sent up 'scapes' or flowering stalks, and you all bought us out in 2 days!  Definitely set you clocks for June 2022 for the next small window of opportunity for these beauts.  They can be eaten raw, roasted, stir fried, steamed or sautéed.  -  The average person consumes 302 cloves of garlic a year.  With that kind...
---
• asparagus • beet • broccoli • corn • fresh • garlic • gourmet • green • greens • herbs • onions • organic • pepper • peppers • produce • radish • recipes • red • root • tomato • tomatoes • u-pick • vegetable • vegetables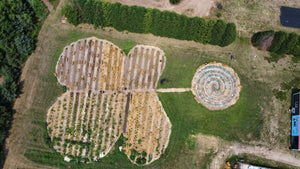 We worked hard to make our veg garden into a one-of-a-kind, radish-shape where you and yours are invited to pick your own recipe ingredients!  Come take a stroll around our spiral radish where you'll find amazing black licorice mint, ever-bearing strawberries, beautifully colored yarrow, and gourmet garlic.  Then meander up the stem to find different crops in each of the 4 leaves.  Experience the joy of harvesting your own ingredients for the freshest and healthiest meals possible!  You name it, it may very possibly be available IN THE COMING MONTHS at the farm!