• fruit • produce • red • tomato • tomatoes • vegetable • vegetables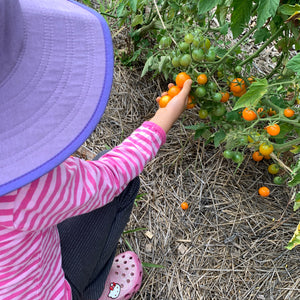 We'll have LOADS of the fan fave "SunGold" tomatoes this year, and should be available by late July.   Fun Facts:   -  The scientific name for tomato is Lycopersicon lycopersicum meaning wolf peach. -  Tomatoes are actually fruits, and are made of 94.5 percent water. -  Tomatoes can be yellow, pink, purple, black and even white.
---
• asparagus • beet • broccoli • corn • fresh • garlic • gourmet • green • greens • herbs • onions • organic • pepper • peppers • produce • radish • recipes • red • root • tomato • tomatoes • u-pick • vegetable • vegetables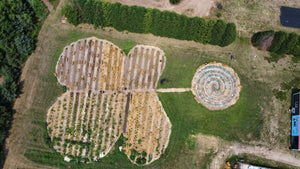 We worked hard to make our veg garden into a one-of-a-kind, radish-shape where you and yours are invited to pick your own recipe ingredients!  Come take a stroll around our spiral radish where you'll find amazing black licorice mint, ever-bearing strawberries, beautifully colored yarrow, and gourmet garlic.  Then meander up the stem to find different crops in each of the 4 leaves.  Experience the joy of harvesting your own ingredients for the freshest and healthiest meals possible!  You name it, it may very possibly be available IN THE COMING MONTHS at the farm!