• beet • beets • fruit • greens • produce • red • root • vegetable • vegetables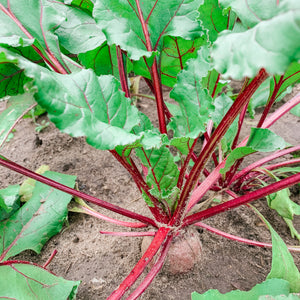 Planting WAY more for 2022, so get the balsamic and goat cheese ready! Fun Facts:  -  When harvested, the entirety of the plant is edible, from the tips of its leaves, down to its long pointed root. -  In ancient times, the root part was not used for cooking but instead as a medicine for treating painful disorders at that time, like headaches and toothaches. -  The biggest beet in the world was grown by a Dutchman. It weighed over 156 pounds.  
---
• asparagus • beet • broccoli • corn • fresh • garlic • gourmet • green • greens • herbs • onions • organic • pepper • peppers • produce • radish • recipes • red • root • tomato • tomatoes • u-pick • vegetable • vegetables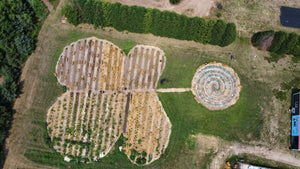 We worked hard to make our veg garden into a one-of-a-kind, radish-shape where you and yours are invited to pick your own recipe ingredients!  Come take a stroll around our spiral radish where you'll find amazing black licorice mint, ever-bearing strawberries, beautifully colored yarrow, and gourmet garlic.  Then meander up the stem to find different crops in each of the 4 leaves.  Experience the joy of harvesting your own ingredients for the freshest and healthiest meals possible!  You name it, it may very possibly be available IN THE COMING MONTHS at the farm!